At Jurgens Chiropractic, we take great pride in providing the finest chiropractic wellness care to our patients. Below is a sampling of the different chiropractic services we offer in our San Diego office.
Chiropractic
Chiropractic Care
We provide spinal correction utilizing gentle chiropractic techniques. Never in the history of chiropractic have we been able to provide the level of help and expertise that now exists. These newer correction methods are even safer, more comfortable and more effective than ever before. As a Doctors of Chiropractic, we have 20 years of training and experience in spinal adjustment.
---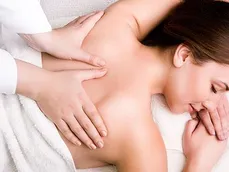 Massage Therapy / Medical Massage
Massage therapy offers a natural conservative treatment approach that relieves musculoskeletal pain for many patients. Our office provides specific massage and muscular therapy that is tailored to meet the patient's condition and injury. The benefits of massage therapy may include increasing blood circulation, reducing swelling, relaxing muscles, relieving muscle pain and spasms, and aid in recovery and range of motion.
---
SoftWave's OrthoGold 100® is an advanced shock wave device using electrohydraulic spark gap technology with a patented parabolic reflector that produces an unfocused or parallel acoustic wave over a broad area resulting in accelerated healing
Increases blood supply
Modulates inflammation
Stimulates and activates stem cells
Repairs and regenerates tissue
Reduces acute and chronic pain
Advanced technology helps more patients by successfully turning on the body's natural healing process
Covers an area wide and deep: 7cm x 12cm
Non-invasive
No anesthesia or numbing agents needed
Short treatment time
Long lasting effect
.
---
Neuropathy
Neuropathy Relief
Coming Soon...

TeslaMax
The TeslaMax is one of the most innovative and unique neuromuscular electric stimulators on the market to date. It utilizes AC current versus standard DC current in most other stim units, which allows for higher voltages at much lower amperages. This results in deeper, more powerful muscle contractions to be tolerated by the patient, which also leads to increased perfusion, oxygenation and circulation to treatment areas. TeslaMax Peripheral Neuropathy treatment is the new breakthrough technology needed to relieve and reverse many types of Neuropathy. The TeslaMax uses Tesla– Based Technology™ to restore blood flow and decrease fluid build–up (edema) in Neuropathy–affected areas. Improving circulation and reducing edema greatly accelerate the body's ability to heal nerve damage.
This type of treatment locally targets the specific areas experiencing the nerve trauma, and removes blockages to allow the body to restore veins and nerves back to working condition. Patients often report feeling immediate relief during their first treatment.
---
Weight Loss
Ultraslim

Lose Fat Today! UltraSlim® is the only noninvasive procedure for immediate fat loss without dieting, exercise, drugs, or surgery. People lose fat immediately with our patented process. This device uses a special patented type of light to stimulate and shrink fat cells. The treated fat cells respond by opening temporary pores in the cell membrane and emptying the fat cell contents, releasing all of that stubborn fat you just can't seem to get rid of. The patented technology of the UltraSlim red light fat loss treatment focuses on targeting only the fat cells, which reduces the risk of damage to other essential cells needed in the body. Patients do not have any recorded side effects from the treatment, and most do not feel any discomfort during or after the treatment. In fact, patients report improvement in their skin as the red light helps to stimulate new collagen and elastin growth.
---
---
Whole Body Vibration
Whole Body Vibration (WBV) offers a low-impact way to increase strength and flexibility, in addition to combating osteoporosis and increasing the metabolism. WBV causes the muscles to experience an involuntary contraction

at the same rate that the platform is vibrating. The mechanical stimulus produces a stretch reflex in 100% of the muscles. This means that the muscles react to the vibration by contracting and relaxing automatically.
Benefits of whole body vibration are that it : accelerates weight loss , reduces cellulite, reduces varicose veins, increases energy, increases bone density, improves muscle strength, enhances detoxification, improves circulation & improves relaxation.
BrainTap Technology
Braintapping is a quick and easy way to relax, reboot and revitalize by simply optimizing your brain's peak potential—anytime, anywhere. Backed by neuroscience and research, braintapping's guided meditation is proven to help people who experience high stress, difficulty sleeping, low energy, and other lifestyle challenges.

The calming, rejuvenating effects of 10 to 20 minutes of braintapping guided meditations serve to balance your nervous system and inoculate you against the stressors of everyday life. Daily braintapping trains your brain to be resilient and creative, and it activates the right mental
states at the right time. In other words, you become your best version of you! Call the office for a FREE 1st time session!
---
3D Body Scanning
Coming Soon...
---
---
Custom Weight loss program
Coming Soon...